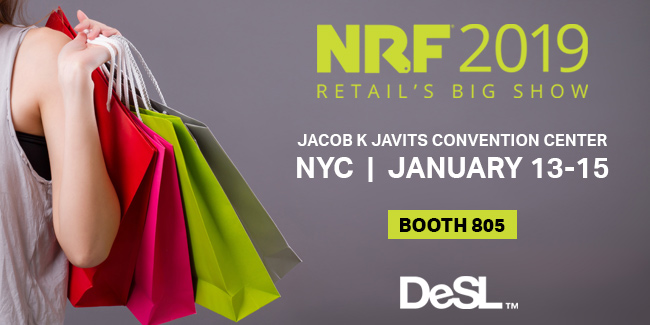 DeSL is set to exhibit at National Retail Federation (NRF) on January 12-14 in New York City, NY. At this retail conference, DeSL will be showcasing its newest suite of software solutions.
A series of specialized standalone, or fully integrated modules, aligning with today's digital transformation business strategy. These fashion management software modules are created for all stages of the supply chain and prioritize key processes in the business.
A few featured modules are,
DeSL knows one size fits all isn't a realistic approach to running a business, That is why modular software was created to accommodate the demands of businesses of all sizes, SMB to enterprise. Furthermore, every module seamlessly integrates into DeSL's solutions or existing third party software.
DeSL offers appointment sign ups for the upcoming retail conference. Appointments allow NRF attendees to meet with DeSL representatives to schedule a live demo or discuss tailored software solutions.
###
About NRF
National Retail Federation (NRF) is the world's largest retail trade association. It represents discount and department stores, home goods and specialty stores, grocers, wholesalers, and internet retailers from around the world. The NRF's 109th annual conference & expo (Retail Big Show 2020). This year's event anticipates 38,000 industry professionals representing over 16,000 retail companies.