Understanding Color Management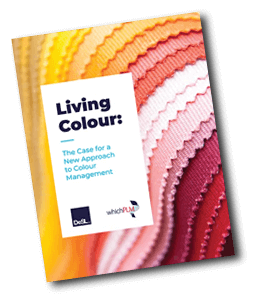 DeSL has partnered up with WhichPLM to improve the way the retail, fashion, apparel, and footwear industries approach understanding color management with a CLM software whitepaper. Living Color: The Case for a New Approach to Color Management is a co-branded whitepaper written to educate and provide a solution to color accuracy throughout the lifecycle process.
"Accuracy is probably the most important word when it comes to understanding the need for better color management"
DeSL's Color Lifecycle Management™ (CLM) is a holistic approach to color management. The CLM software whitepaper share benefits include:
Reduced time to market
Better-informed, more practical design
Customer satisfaction
Consistency of color between applications
Transparency and increased insight
Mutual benefits for brands and suppliers
Download Whitepaper
Complete the form below to download the CLM software whitepaper Living Colour: The Case for a New Approach to Color Management. Learn more about DeSL's revolutionary new Color Lifecycle Management™ tools tailored for your brand.